Carrier 38MHRCQ Ductless System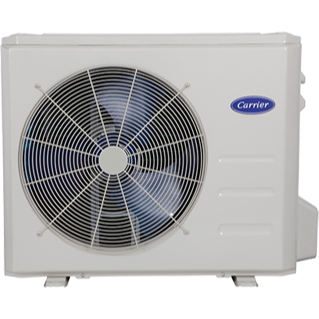 Overview
The 38MHRBQ heat pump lives up to our Comfort™ series name, quickly getting up to speed to provide responsive heating and cooling. The highest efficiency model in this series, it's the ideal solution for affordable, space-saving comfort. Properly matched with a Carrier high wall indoor unit, the 38MHRBQ can make all the difference in a room addition, converted space, or anywhere your ducted system leaves you less than comfortable.
Why This Ductless System Is Right for You
Energy Savings: Up to 19.8 SEER for premium cooling energy savings & 11.2 HSPF for enhanced heating energy savings.
Comfort Features: Enhanced comfort features for improved temperature control and more consistent comfort.
Minimal Installation: Because there are no ducts, installation is a breeze—no tearing open walls, patching, or repainting required!
Zones: Single-zone system.
Sound Performance: Quiet operation for peace and comfort.